Find a provider
Kofi-Len Belfon
Offers
In-person and virtual appointments
Psychologist

Rated 4.9 out of 5 stars. 343 rating(s).

$200 - $225 per visit
Description
Dr. Belfon has more than 10 years of clinical experience in a variety of settings. In addition to his role as the director at BPS, Dr. Belfon is the Clinical Lead for Durham Region at Kinark Child and Family Services. Dr. Belfon has previously worked as a staff psychologist at both Ontario Shores Centre for Mental Health Sciences and Kinark Child and Family Services. He has previous experience working with children and youth in psychological services capacities at Syl Apps Youth Centre, the Toronto District School Board, and several private clinics in the greater Toronto area.
Services
Educational assessments
Family counselling
Group counselling
Facility Information
Belfon Psychological Services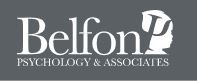 Summary
Belfon Psychological Services aims to improve the mental health functioning of clients through the provision of evidence based practices in clinical psychology. We are committed to enhancing the wellbeing of children in their homes, schools, and communities. We work with children aged 6-18, who are having difficulties with mood, anxiety, disruptive behavior, obsessive/compulsive behaviors, social development, and learning. We believe in the importance of working together with families, and we regularly involve caregivers in treatment and assessment when it is possible to do so.
Services & supplies
Educational assessments
Family counselling
Group counselling


3-109 Old Kingston Rd, Ajax, ON L1T 3A6