Find a provider
Chana Ross
Physiotherapist

Rated 5.0 out of 5 stars. 165 rating(s).
Description
Chana's interest in women's health developed during her pregnancies with her four beautiful children. She has since completed extensive training in the treatment of pelvic pain, incontinence, pelvic organ prolapse, ano-rectal disorders, chronic pain and prenatal and postpartum conditions. Chana is one of a select number of physiotherapists in Canada with specialized training in labour and delivery and treatment of diastasis recti ("mummy tummy").
Facility Information
Vital Physiotherapy & Wellness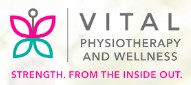 Summary
Vital Physiotherapy is a Highly ranked, dynamic customer service-centred multidisciplinary women's health clinic in mid-town Toronto. We are passionate about pelvic and women's health and focused on empowering our clients of all ages and stages to achieve their health, fitness and mental health goals. Our team includes pelvic health physiotherapists, a perinatal chiropractor, Naturopathic Doctors, a Registered Massage Therapist and an incredible Social Worker and Doulas to support you and guide you.
Services & supplies
Pelvic health therapy
Wellness massage


734 St Clair Ave W, Toronto, ON M6C 1B3