Find a provider

Katherine Lamar
Offers
In-person appointments only
Physiotherapist

Rated 4.2 out of 5 stars. 28 rating(s).
Description
Synergy Rehab is committed to providing high quality services in beautiful state-of-the-art facilities. As a healthcare leader we partner with groups and events within the communities we serve. Our focus on our active therapists continuing education is unmatched and guarantees our kins understand and put into practice cutting-edge treatments and rehabilitation techniques available for all types of injuries and conditions.

We offer wide range of comprehensive services including accident injury rehabilitation, physiotherapy and active rehab.We offer free treatment for ICBC cases.
Facility Information
SYNERGY REHAB - New Westminster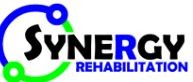 Services & supplies
Deep tissue massage
Functional restoration
Sports massage
Wellness massage
Amenities
Close to public transit
Free parking
Free Wi-Fi
Wheelchair accessible


202-301 East Columbia St, New Westminster, BC V3L 3W5