Find a provider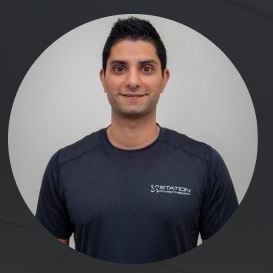 Shafeen Hirji,
B.Sc.
Offers
In-person and virtual appointments
Physiotherapist

Man

Rated 5.0 out of 5 stars. 390 rating(s).
Description
Shafeen Hirji was born and raised in Burnaby, British Columbia. He grew up playing numerous community sports which included volleyball, baseball and basketball. He still attempts to keep up with the younger generation playing basketball and is an avid weight lifter. On the weekends, you can usually find him going on random 'adventure' walks with his kids.
Conditions
Ankle pain
Arthritis
Back pain
Balance issues
Carpal tunnel
Concussions
Dislocations
Flexibility issues
Foot pain
Headaches
Injuries
Joint pain
Knee pain
Leg pain
Muscle imbalances
Neck pain
Osteoporosis
Plantar fasciitis
Posture issues
Rotator cuff issues
Running issues
Sciatica
Scoliosis
Shoulder pain
Spasms
Sports injuries
Sprains
Tendonitis
Tennis elbow
Torn ligaments
Torn muscles
Walking issues
Wrist pain
Services
Acupuncture
Electrotherapy
Ergonomics
Functional restoration
Hot & cold therapy
Joint manipulation
Joint mobilization
Pre/Post-surgical rehabilitation
Sport therapy
Ultrasound therapy
Clientele
Adults (18+)​
Children (under 12)​
Pediatrics​
Seniors (65+)​
Teens (13-17)​
Professional designations
Bachelor of Science (B.Sc.)
Education
Bachelor of Science in Physical Therapy (BScPT)
Certified Chan Gunn IMS Practitioner (CGIMS)
Certified Acupuncturist of the Foundation of Canadian Institute (CAFCI)
Level 3 Orthopaedics Certification
Professional associations
Facility Information
Station Physiotherapy
Summary
A supportive, motivating and fun environment whereby the therapists and staff are utilizing the highest standards of care. Your initial assessment will include a detailed subjective history and a thorough objective exam to provide an accurate diagnosis of your injury. Together, we will create a comprehensive individualized treatment plan and then get you back to where you want to be!
Services & supplies
Acupuncture
Electrotherapy
Ergonomics
Functional restoration
Hot & cold therapy
Joint manipulation
Joint mobilization
Pre/Post-surgical rehabilitation
Sport therapy
Ultrasound therapy
Amenities
Close to public transit
Free parking
Free Wi-Fi
Wheelchair accessible


6215-2850 Shaughnessy St, Port Coquitlam, BC V3C 6K5