Find a provider
Heena Sodhi,
PT
Offers
In-person and virtual appointments
Physiotherapist

Woman

Rated 4.9 out of 5 stars. 27 rating(s).
Description
Heena is a physiotherapist and she has worked in a variety of settings, encompassing clinical and hospital environments. She has experience working with various populations including athletes and geriatrics where she used manual therapy techniques and exercises to help her clients achieve their goals.
Conditions
Ankle pain
Arthritis
Back pain
Balance issues
Carpal tunnel
Concussions
Dislocations
Flexibility issues
Foot pain
Headaches
Injuries
Joint pain
Knee pain
Leg pain
Muscle imbalances
Neck pain
Osteoporosis
Plantar fasciitis
Posture issues
Rotator cuff issues
Running issues
Sciatica
Scoliosis
Shoulder pain
Spasms
Sports injuries
Sprains
Tendonitis
Tennis elbow
Torn ligaments
Torn muscles
Walking issues
Wrist pain
Services
Electrotherapy
Ergonomics
Functional restoration
Hot & cold therapy
Joint manipulation
Joint mobilization
Pre/Post-surgical rehabilitation
Soft tissue therapy
Sport therapy
Ultrasound therapy
Clientele
Adults (18+)​
Children (under 12)​
Pediatrics​
Seniors (65+)​
Teens (13-17)​
Professional designations
Professional associations
College of Physiotherapists of Manitoba
Facility Information
Motion Science Physiotherapy Clinic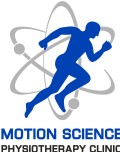 Summary
We are a Physiotherapy clinic located in the Silver Height/St. James area of Winnipeg. We offer the latest evidence based assessment and treatment techniques. We take a hands-on approach to your care and only book single appointments at a time.

* We offer private and open concept treatment areas for physiotherapy and private rooms for massage.
Services & supplies
Concussion therapy
Electrotherapy
Hot & cold therapy
Joint manipulation
Joint mobilization
Pre/Post-surgical rehabilitation
Soft tissue therapy
Ultrasound therapy
Amenities
Close to public transit
Free parking
Wheelchair accessible


B101 - 2080 Ness Ave, Winnipeg, MB R3J 0Z3