Find a provider

Paul Travis,
PT
Offers
In-person appointments only
Physiotherapist

Man

Rated 4.8 out of 5 stars. 18 rating(s).
Description
Paul was always active in sports and physical activity, which inspired him to take a functional approach to assessment and treatment. Applied biomechanics and a deep understanding of injury mechanisms are Paul's interests. Using this approach, Paul provides an evidence-based, client-centred treatment plan that aligns with improving patient function. With Paul, it's always about objectively improving the patient's condition and implementing a plan for optimal recovery from the very first treatment
Conditions
Ankle pain
Arthritis
Back pain
Balance issues
Carpal tunnel
Concussions
Dislocations
Flexibility issues
Foot pain
Headaches
Injuries
Joint pain
Knee pain
Leg pain
Muscle imbalances
Neck pain
Osteoporosis
Plantar fasciitis
Posture issues
Rotator cuff issues
Running issues
Sciatica
Scoliosis
Shoulder pain
Spasms
Sports injuries
Sprains
Tendonitis
Tennis elbow
Torn ligaments
Torn muscles
Walking issues
Wrist pain
Services
Concussion therapy
Electrotherapy
Ergonomics
Functional restoration
Hot & cold therapy
Joint manipulation
Joint mobilization
Laser therapy
Pre/Post-surgical rehabilitation
Running assessment
Soft tissue therapy
Sport therapy
Temporo-Mandibular joint (TMJ) pain treatment
Vestibular rehabilitation
Clientele
Adults (18+)​
Children (under 12)​
Seniors (65+)​
Teens (13-17)​
Professional designations
Education
St. Francis Xavier University
Glasgow Caledonian University
Professional associations
Nova Scotia College of Physiotherapists
Facility Information
Active Approach Health & Wellness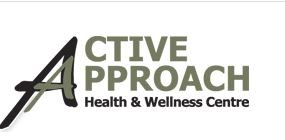 Summary
Our mission is to deliver the highest standards in healthcare service to our patients through evidence-informed and patient-centered care, while facilitating achievement of every patients' health goals through cost-effective, multidisciplinary treatment options tailored to maximizing the patient experience.
Services & supplies
Acupuncture
Arthritis treatment
Chiropractic adjustments
Concussion therapy
Custom Orthotics
Deep tissue massage
Electrotherapy
Ergonomics
Functional restoration
Hot & cold therapy
Joint manipulation
Joint mobilization
Laser therapy
Manual and manipulative therapy
Pre/Post-surgical rehabilitation
Running assessment
Soft tissue therapy
Sport therapy
Temporo-Mandibular joint (TMJ) pain treatment
Vestibular rehabilitation
Wellness massage
Amenities
Close to public transit
Free parking
Free Wi-Fi
Wheelchair accessible


53 Prince St, Sydney, NS B1P 5J6