Find a provider
Hani Reyad,
RMT
Massage Therapist

Man

Rated 4.6 out of 5 stars. 5 rating(s).

More than $110 per visit
Description
Trelawny Health Centre is a preferred rehabilitation centre by insurance companies.  We take pride in offering a holistic approach to your health care needs.  Whether you are suffering from an injury or would like preventative wellness care, we offer attentive and personalized care.

Our experienced health professionals will guide you through a comprehensive care plan.  Our services include Chiropractic, Physiotherapy, Orthotics, Acupuncture, Traditional Chinese Cupping, Indian Head Massage and Massage Therapy.
Conditions
Ankle pain
Arthritis
Back pain
Concussions
Foot pain
Headaches
Injuries
Joint pain
Leg pain
Lymphatic issues
Neck pain
Osteoporosis
Posture issues
Sciatica
Scoliosis
Shoulder pain
Spasms
Sports injuries
Sprains
Tense muscles
Walking issues
Wrist pain
Services
Active release massage
Craniosacral therapy
Cupping therapy
Deep tissue massage
Foot reflexology
Hydrotherapy
Lymphatic drainage massage
Post operative care
Pre/post-natal massage
Sports massage
Swedish massage
TMJ massage
Wellness massage
Clientele
Adults (18+)​
Seniors (65+)​
Teens (13-17)​
Professional designations
Registered Massage Therapist (RMT)
Professional associations
Facility Information
Trelawny Health Centre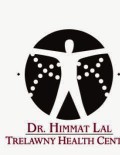 Services & supplies
Active release massage
Arthritis treatment
Bracing and splinting
Chiropractic adjustments
Concussion therapy
Craniosacral therapy
Cupping therapy
Custom Orthotics
Deep tissue massage
Drop table technique
Ergonomics
Foot reflexology
Hot & cold therapy
Hydrotherapy
Joint manipulation
Joint mobilization
Laser therapy
Lymphatic drainage massage
Manual and manipulative therapy
Massage and soft tissue mobilization
Pelvic health therapy
Post operative care
Pre/post-natal massage
Pre/Post-surgical rehabilitation
Skin and wound care
Soft tissue therapy
Spinal manipulation
Sports massage
Swedish massage
Temporo-Mandibular joint (TMJ) pain treatment
TMJ massage
Vestibular rehabilitation
Wellness massage
Amenities
Close to public transit
Free parking
Wheelchair accessible


3899 Trelawny Circle, Mississauga, ON L5N 6S3