Find a provider
Jose Mendoza- Saud
Massage Therapist

Rated 4.6 out of 5 stars. 12 rating(s).

$90 - $105 per visit
Description
Jose graduated in 2018 with an Advanced Diploma in Massage Therapy from Algonquin College. Often described as friendly, outgoing, and compassionate by those around him, these traits help Jose to better relate to others and to better understand his patients.

Jose's interest in injuries and helping those in pain stems from his many years of playing both competitive and recreational sports, such as soccer, and volleyball, as he wanted to help those injured while playing sports.
Facility Information
ChiroActive Carleton Place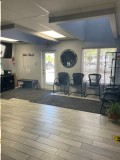 Summary
ChiroActive was opened by husband and wife chiropractors Dr. Trina Parry and Dr. Brian Martyniuk. We're here to help and support you in achieving a more balanced and active way of life. After their graduation from Canadian Memorial Chiropractic College, the pair knew they wanted to open two practices in Ottawa to serve the families in our area. Along with chiropractic care, we also offer massage therapy.
Services & supplies
Sports massage
Wellness massage


8-130 Lansdowne Ave, Carleton Place, ON K7C 2T7