Find a provider

Erica Pratt
Massage Therapist

Rated 4.9 out of 5 stars. 89 rating(s).

$90 - $110 per visit
Description
Born and raised in Carp, Erica's interest in kinetics and self-care led her to pursue her career in massage therapy. She is a graduate of the Algonquin College Massage Therapy Intensive Program and a member of the Registered Massage Therapists Association of Ontario (RMTAO). She is excited to offer her services at ChiroActive for treatment of a wide range of conditions including chronic and acute pain syndromes, trigger points, myofascial tension and sports related injuries. She also provides relaxation massage for when you just want to unwind and take time for yourself!
Facility Information
ChiroActive Carleton Place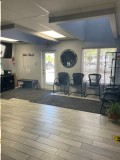 Summary
ChiroActive was opened by husband and wife chiropractors Dr. Trina Parry and Dr. Brian Martyniuk. We're here to help and support you in achieving a more balanced and active way of life. After their graduation from Canadian Memorial Chiropractic College, the pair knew they wanted to open two practices in Ottawa to serve the families in our area. Along with chiropractic care, we also offer massage therapy.
Services & supplies
Sports massage
Wellness massage


8-130 Lansdowne Ave, Carleton Place, ON K7C 2T7