Find a provider

Bryon Weinberg
Offers
In-person appointments only
Chiropractor

Rated 4.9 out of 5 stars. 1221 rating(s).

More than $65 per visit
Description
Dr. Weinberg practices as a diversified chiropractor.  He uses manual techniques, such as: Active Release Therapy, electric acupuncture, spinal and extremity manipulation and also relies heavily on exercise and rehabilitation prescription. Combining his skills and experience, he has been able to help athletes from all different sports achieve their goals through treatment, rehabilitation, and pre-habilitation programs.  In addition to his practice, he is also a chiropractor for the Toronto Argonauts of the Canadian Football League (CFL).
Services
Bracing and splinting
Custom Orthotics
Ergonomics
Education
University of Hawaii – BA, Pre-Law
Canadian Memorial Chiropractic College – Doctor of Chiropractic
Professional associations
Doctor of Chiropractic
Ontario Chiropractic Association (OCA)
Certified Strength and Conditioning Specialist
Medical Acupuncture Provider
Active Release Techniques Provider
Facility Information
High Point Wellness Centre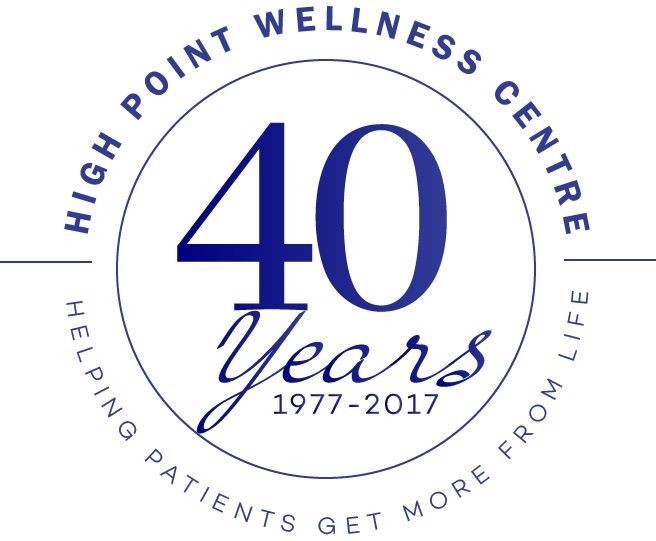 Summary
At High Point Wellness Centre our goal is to care for, educate and inspire our patient in their journey towards optimal health. 

Our focus is twofold: The treatment and prevention of common, physical injuries. Custom tailored workplace health solutions. 

We help our patients prevent injury and disease and optimize performance in daily life. We treat all ages and fitness levels, including elite athletes and have designed successful wellness programs for a number of leading Canadian corporations.
Services & supplies
Arthritis treatment
Body composition analysis
Bracing and splinting
Chiropractic adjustments
Concussion therapy
Cupping therapy
Custom Orthotics
Deep tissue massage
Ergonomics
Home Visits
Hot & cold therapy
Hydrotherapy
Joint manipulation
Joint mobilization
Laser therapy
Lifestyle counselling
Naturopathic remedies
Pelvic health therapy
Pre/Post-surgical rehabilitation
Skin and wound care
Soft tissue therapy
Spinal decompression
Spinal manipulation
Sports massage
Temporo-Mandibular joint (TMJ) pain treatment
Traditional chinese medicine
Vestibular rehabilitation
Wellness massage
Amenities
Close to public transit
Free parking
Free Wi-Fi
Wheelchair accessible


5110 Creekbank Rd, Suite 700, Mississauga, ON L4W 0A1