Find a provider
Trina Parry
Chiropractor

Rated 5.0 out of 5 stars. 422 rating(s).

$50 - $65 per visit
Description
To become a chiropractor, Dr. Trina completed her Health Sciences degree at the University of Western Ontario, and then went on to attend Canadian Memorial Chiropractic College. After beginning practice, she earned an extra certification in pediatric care and the Webster Technique from the International Chiropractic Pediatric Association (ICPA). She enjoys having a family wellness practice, emphasizing care for expecting moms and kids. The additional education she's undertaken has allowed her to provide care to all members of the family and many different types of cases.
Facility Information
ChiroActive Carleton Place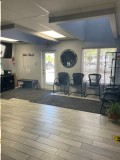 Summary
ChiroActive was opened by husband and wife chiropractors Dr. Trina Parry and Dr. Brian Martyniuk. We're here to help and support you in achieving a more balanced and active way of life. After their graduation from Canadian Memorial Chiropractic College, the pair knew they wanted to open two practices in Ottawa to serve the families in our area. Along with chiropractic care, we also offer massage therapy.
Services & supplies
Sports massage
Wellness massage


8-130 Lansdowne Ave, Carleton Place, ON K7C 2T7