Find a provider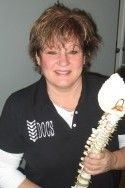 Kelly Misener
Offers
In-person appointments only
Chiropractor

Rated 5.0 out of 5 stars. 186 rating(s).
Description
Dr. Kelly takes pride in having received her Doctorate of Chiropractic from Palmer College of Chiropractic. Prior to returning to school to complete her doctorate degree her background included owning a successful computer consulting company for 15 years. 

During her experience at Palmer she participated in a variety of volunteer programs including a clinic abroad trip and engaging in a team-oriented assessment group at the Veteran's Society.

She is also practicing Acupuncture where she received her training at McMaster University and is licensed to practice.
Conditions
Back pain
Herniated discs
Joint pain
Leg pain
Neck pain
Shoulder pain
Wrist pain
Services
Arthritis treatment
Chiropractic adjustments
Concussion therapy
Custom Orthotics
Ergonomics
Home Visits
Hydrotherapy
Laser therapy
Spinal decompression
Spinal manipulation
Temporo-Mandibular joint (TMJ) pain treatment
Education
Palmer College of Chiropractic
Professional associations
College of Chiropractors of Ontario
Canadian Academy of Medical Acupuncture
Facility Information
Brantford DOCS

Summary
Brantford DOCS offers gentle effective chiropractic care for the whole family.

A chiropractor frees locked joints and restores normal nerve and muscle function through specific adjustments. Over time, poor posture and unbalanced joint motion cause joint stress, breakdown, arthritis, and pain.

We help problems in the musculo-skeletal system (muscles, bones and joints) by re-aligning the positioning of vertebra. Pain is reduced when we relieve irritation and stress from nerves, muscles, ligaments, and other soft tissues.

We also offer OSTEOPATHY, acupuncture and massage therapy.
Services & supplies
Arthritis treatment
Chiropractic adjustments
Concussion therapy
Custom Orthotics
Deep tissue massage
Ergonomics
Home Visits
Hydrotherapy
Laser therapy
Spinal decompression
Spinal manipulation
Sports massage
Temporo-Mandibular joint (TMJ) pain treatment
Wellness massage
Amenities
Close to public transit
Free parking


100 St George St, Brantford, ON N3R 1V6